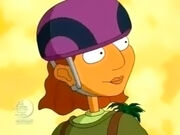 Carla was the lead character in episode 9A of season 4, titled "New Girl on the Block ." According to TVRage , "Reggie makes friends with a new girl named Carla," who was voiced by Alison Inconstanti.
Reggie was curious as to why Carla, a good skater, showed up in town pretty much unnoticed. The gang investigated and found that Carla was living in a homeless shelter. The story dealt with Carla's (initially) suspicious reaction to Reggie's wanting to help her, and how she ultimately became friends with the Rocket crew.
Ad blocker interference detected!
Wikia is a free-to-use site that makes money from advertising. We have a modified experience for viewers using ad blockers

Wikia is not accessible if you've made further modifications. Remove the custom ad blocker rule(s) and the page will load as expected.