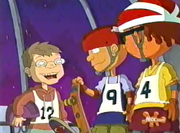 Daniel Stark is a cancer survivor who had a wish to be a character and/or voice in an animated cartoon. The opportunity for him to appear in The Big Day was arranged by the Make-A-Wish Foundation.
In the episode, Daniel the character is a skilled snowboarder known to the foursome's outer circle.
Ad blocker interference detected!
Wikia is a free-to-use site that makes money from advertising. We have a modified experience for viewers using ad blockers

Wikia is not accessible if you've made further modifications. Remove the custom ad blocker rule(s) and the page will load as expected.