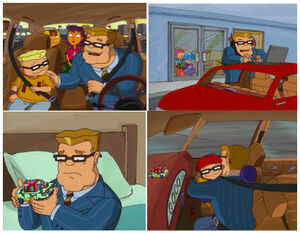 Douglas "Doug" Dullard is Sammy Dullard's father and the ex-husband of Paula Dullard. He is a businessman who appears to be relatively high-up in the corporate world.
In the episode, "Father's Day Off", Mr. Dullard visits Ocean Shores to spend quality time with Sam. However, he is constantly wrapped-up in work and neglects to give Sam his undivided attention. In the end, after receiving a model car as gift from Sam, Mr. Dullard finally realizes that work should not come before family.
Ad blocker interference detected!
Wikia is a free-to-use site that makes money from advertising. We have a modified experience for viewers using ad blockers

Wikia is not accessible if you've made further modifications. Remove the custom ad blocker rule(s) and the page will load as expected.