Saoirse O'Grady

Fanfiction Character

Gender

Female

Ethnicity

Irish, French

Age

16 (At beginning of story)

Appearance

Green eyes, red hair (usually tousled), fair complexion, petite

Relationships

Twister Rodriguez (boyfriend), Fiona O'Grady (sister), Brody O'Grady (brother), Seamus O'Grady (father), Geneviève Benoit (mother)
Saoirse O'Grady is a character created by fanfiction writer/artist and RP Wiki contributor, MegzEve007. She is a main character in the fanfic, entitled "Fusion of Two Worlds".
The appearance, personality, and style of Saoirse is greatly inspired by that of actress, Molly Quinn .
Saoirse's piano skills were inspired by a friend of the author's, who is also a young and borderline-professional pianist.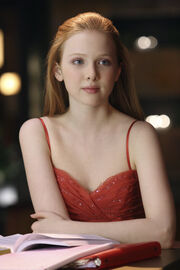 Ad blocker interference detected!
Wikia is a free-to-use site that makes money from advertising. We have a modified experience for viewers using ad blockers

Wikia is not accessible if you've made further modifications. Remove the custom ad blocker rule(s) and the page will load as expected.