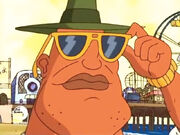 Major "Maddogg" Madison was a character in episode 14B of season 3, titled "Saving Lt. Ryan."
According to TVRage , "Major Madison comes to inspect Ocean Shores and Lifeguard Lt. Ryan thinks he'll demand major discipline. But when he shows up and demands that everyone call him "Sparkles" and enforces a "No Rules" policy, will the lack of any beach regulations force the Rocket kids to take some action in making him see that some rules need to be set?"
Madison was voiced by R. Lee Ermey .
Ad blocker interference detected!
Wikia is a free-to-use site that makes money from advertising. We have a modified experience for viewers using ad blockers

Wikia is not accessible if you've made further modifications. Remove the custom ad blocker rule(s) and the page will load as expected.