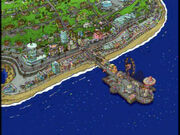 Ocean Shores, the main setting of Rocket Power, is a medium size city along the coast of Southern California. There city is a nod to a mash-up of various beach cities in SoCal such as: Redondo Beach located in SoCal's South Bay, Long Beach located in South Bay, Huntington Beach located in Orange County, Zuma Beach located in Malibu and Laguna Beach located in Orange County. The pier is clearly based on Santa Monica Pier, but has elements of Newport Beach's harbor. The residential area homes are reminiscent of those found in Orange County's beach town of San Clemente. There are episodes that take place in Hawaii as well.
Ocean Shores celebrates its Founders Day on April 1st.
Early promotional material about Rocket Power hosted on the Nickelodeon website situated the world of Rocket Power in a venue called "Ocean Park" - which is a real place in West LA near the beach towns of Santa Monica and Venice Beach.
It's worth noting that there is actually a city of Ocean Shores located in the State of Washington, though it is located several hundred miles north of the location usually assigned to its cartoon namesake. The city of Ocean Shores, though, is also located on the West Coast, and faces the same Pacific Ocean as that washing the shores of sunny SoCal.
Ad blocker interference detected!
Wikia is a free-to-use site that makes money from advertising. We have a modified experience for viewers using ad blockers

Wikia is not accessible if you've made further modifications. Remove the custom ad blocker rule(s) and the page will load as expected.