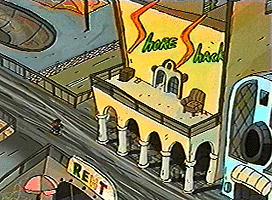 The Shore Shack is a business at Ocean Shores Pier run by both Ray Rocket and Tito Makani. It comprises of a two story Mission Revival building on the pier itself covering the open-front restaurant itself and an upstairs flat where Tito lives, and a strand-level surf shop, Rocket Boards, directly underneath.
It's the first building to the left at the start of the pier. Its immediate seaward neighbor is a music store, shaped like an old fashioned radio.
Ad blocker interference detected!
Wikia is a free-to-use site that makes money from advertising. We have a modified experience for viewers using ad blockers

Wikia is not accessible if you've made further modifications. Remove the custom ad blocker rule(s) and the page will load as expected.