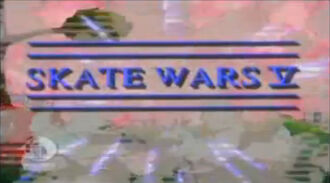 In the world of Rocket Power, Skate Wars was a kid action movie franchise that had run to at least six installments. The hero and central character, Donny Lightning, would engage in preposterous chases, escapes, and rescues using skateboarding techniques. For a time, the foursome enjoyed viewing these films and Otto would fantasize about joining Lightning's entourage, probably as a consultant or trainer. However, when Lightning and his production crew were shooting location scenes at Madtown, the gang learned that Lightning couldn't skate his way out of a soap bubble: his action scenes were handled by a female stunt artist.
Lightning was injured when Otto challenged him to an obstacle course. Consequently, the stunt artist now got top billing as the star.
Ad blocker interference detected!
Wikia is a free-to-use site that makes money from advertising. We have a modified experience for viewers using ad blockers

Wikia is not accessible if you've made further modifications. Remove the custom ad blocker rule(s) and the page will load as expected.