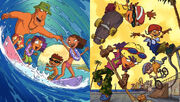 Rocket Power is back on television! You'll need access to a television package that has TeenNick. RP is being shown during TeenNick's "90s Are All That" block of old (see: awesome) shows.
You can catch 2 full episodes (repeat following one hour after the second episode ends) every Saturday at 11:00PM Central (Sunday @ midnight Eastern) and Sunday at 11:00PM Central (Monday @ midnight Eastern).
Things kicked off on June 7th and June 8th with the first 2 full episodes of Rocket Power (New Squid on the Block / Down the Drain and Secret Spot / Ice Queens). It looks like they're showing episodes in order every week.
It's currently unknown as to whether this is a permanent (or at least seasonal) addition to 90s Are All That. Rocket Power was shown during the last week of December in 2013, but that was it. Fortunately, according to a few different TV guides, it looks like they're showing Rocket Power for at least 2 weeks, so hopefully this will be around for much longer.
Ad blocker interference detected!
Wikia is a free-to-use site that makes money from advertising. We have a modified experience for viewers using ad blockers

Wikia is not accessible if you've made further modifications. Remove the custom ad blocker rule(s) and the page will load as expected.