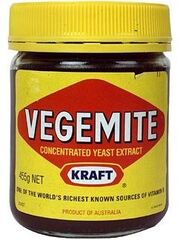 Vegemite is a Mondelēz Australia product, a concentrated yeast extract mixture and dietary supplement popular in Commonwealth countries as a spread for toast. It is a byproduct of the brewing of beer (Guinness briefly made a competing product), also contains vegetables, grains, and spices, and is very high in B vitamins.
In Race Across New Zealand, Tito becomes enamored with the taste of vegemite.
External links
Ad blocker interference detected!
Wikia is a free-to-use site that makes money from advertising. We have a modified experience for viewers using ad blockers

Wikia is not accessible if you've made further modifications. Remove the custom ad blocker rule(s) and the page will load as expected.